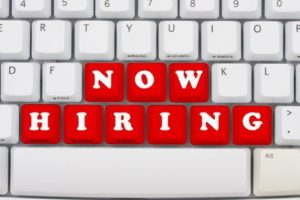 At Vantage Point Recruiting, we help hiring managers find just the right team member for their IT, engineering, or upper-level management needs. When faced with a position to fill, whether you are hiring for an executive level or administrative support position, you need a streamlined process in place to ensure the effort is effective, impartial and sustainable. We're kicking off a new series of blogs, Hiring Best Practices, to help you through the entire hiring process – from clarifying the skills you require to onboarding procedure to set your new hire up for success.
Part 1 – What are hiring best practices?
Hiring can be complex, costly, and time-consuming! Undoubtedly, however, it can also be very rewarding. One person can change a business, but typically it's the collective talent that brings positive change to an organization. There are many factors to consider when hiring. It's essential that you start with a well thought out, structured process that includes clear objectives and communication throughout. With this this in mind, you'll efficiently and effectively identify your top candidates in a fair manner that will benefit everyone.
Using a Best Practices Hiring Model will be a Game Changer
Finding the right person is never an easy endeavor, yet who you hire can have a huge impact on your overall team. New hires influence organizational culture, innovation, and team cohesiveness. Every position is critical and contributes uniquely to the company achieving its goals; therefore, starting with the right hiring process will set you up for success in introducing new individuals who are best suited for the position.
Utilizing Hiring Best Practices also helps avoid the risk that any candidate could come out of interviews confused about the position's primary responsibilities because different interviewers interpreted the role and responsibilities differently or put their own spin on things. People want to work for an employer who is organized, communicates clearly, and has direction. You want all candidates to leave your organization with a positive opinion about you and your culture, regardless of the outcome of the interview.
Hiring Best Practices are a great opportunity for the organization!
Gap Analysis
Being in the position to make a new hire is the perfect time to do an analysis of the current team dynamics. Analyze the current strengths and weaknesses already in place, and use this information to formulate an ideal role for the new hire that will fortify the group. If you have a lot of senior people, for example, it may be to your benefit to bring in a less-experienced member who is eager to learn and offer new ideas.
Team Empowerment
Each member of your current team will likely have their own set of questions to engage with, and evaluate, candidates. That's good! Their involvement in the interview process stimulates discussion on all levels, and can reveal the candidate's personality, character and emotional intelligence in ways that leadership may not think about. Your team will most likely work with this candidate on a daily basis so they will appreciate being part of the process.
Using Hiring Best Practices provide:
Consistency and structure – gives you a model that can be applied and repeated regardless of the level or type of position.
Fairness – all candidates are assessed on the same criteria, offered the same structured interview, and given the same opportunity to present themselves in the best light.
Clarity – with an accurate job description and criteria from which to assess and rate candidates, you'll have a clear direction in identifying the most qualified candidates. This blueprint can be easily shared with those involved in the process and updated as needed.
Cohesiveness – with everyone working from the same blueprint, you can ensure everyone has the same information and assumptions about the process. Your candidates will get the same consistent message, which reflects positively on you.
To help you minimize the complexity in finding candidates, and the risks involved in the hiring process, we're going to continue this blog series, covering each phase of the process from search to orientation. Each part of the Hiring Best Practices series will cover tips, details often over-looked, and lessons learned from our 30 years of experience here at Vantage Point Recruiting. Watch for these hiring insights in our upcoming newsletters!
Please be sure to sign up to receive our Hiring Insights Quarterly newsletter.