Full Time
This position has been filled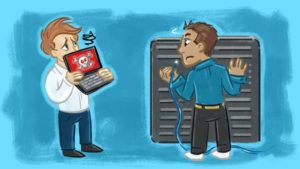 Our client is a highly regarding SMB, recognized as one of the "Best Places to Work in Maine"  for multiple years.
Together with the firm's Managed Services Provider, the IT Systems Support Specialist will provide quality and professional desktop, laptop, mobile device, network and applications support to the firm's end users.
RESPONSIBILITIES:
Perform installation, configuration, maintenance, and troubleshooting of end user workstation hardware, software, and peripheral devices
Provide end users with technical support.
Provide training to new users as well as updates and refresher training to existing users
Maintain an organized and updated inventory of the firm's IT equipment
Communicate directly with industry specific software vendors to ensure technical specifications and updates are understood and timelines met.
Identify and learn appropriate software and hardware used and supported by the firm.
Coordinate efforts and communicate with the firm's offsite technology vendors to include IT MSP, ISP, VoIP/mobile phones, video/teleconference, printers, and other related providers to understand service offerings and make recommendations.
Partner with vendors to educate and roll out new products and services to end users.
Conduct initial employee cyber security training and facilitate ongoing training through the firm's MSP.
Look for and implement efficiency and process improvement in IT services and functionality
Schedule, communicate and coordinate any work that will cause downtime to users.
Assist MSP with disaster recovery and business continuity plans and tests.
EDUCATION AND EXPERIENCE:
College Degree in Information Technology, Computer Science or equivalent work experience.
Proven ability to troubleshoot problems and provide solutions.
Proven track record of supporting/maintaining integrity of IT infrastructure
Experience in professional services industry preferred
KNOWLEDGE SKILLS AND ABILITIES:
Self-starter and able to effectively triage issues to determine if escalation is required
High degree of technical aptitude and troubleshooting skills.
Ability to effectively manage time, establish priorities, meet deadlines and juggle multiple tasks in a fast–paced environment
Proficient in the Microsoft Office suite – Excel, Word, Outlook, PowerPoint
Ability to quickly assess urgency/business impact to prioritize and respond to issues appropriately.
Ability to analyze and solve problems in a self-reliant, proactive and resourceful manner
Excellent and effective interpersonal and customer service skills
Must have keen attention to detail and be highly organized.
Superior follow up and follow through skills in order to ensure a productive work environment, both internally with staff and externally with service providers.
Exhibit an intellectual curious mindset to enhance the firm's use of its information systems.
Ability to work beyond standard office hours, as necessary